fotoAID has curated a small lot of collectable photography by renowned photographers for the Charity Auction. We are indebted to the photographers and owners of the items for these generous donations.
100% of proceeds will go directly to charities that are supporting wildlife and communities recover after Australia's devastating Summer of Fires.

Auction Day is February 22nd, 2020, commencing 3:00pm (GMT+10).

We are taking pre-auction bids for all works and these will close at 12 noon on Auction Day, Saturday 22 February 2020.

From 3pm on Auction Day you will be able to bid in the following ways:

1. Be present at The Maud Street Photo Gallery and placing bids.

2. Have a proxy who is attending the event bid on your behalf.

3. By following the auction's Facebook Livestream on our FB page and participating by placing your bid in the stream's Comments field.

Pre-auction bids will be updated on this page until 12 noon on Auction Day, Saturday 22 February 2020.
PRE-AUCTION BIDDING IS NOW CLOSED

If you would like to make a pre-auction bid on any item, please don't hesitate to contact us HERE . Please also contact us for exact details of each work before bidding.

THE AUCTION CONTAINS WORK BY THE FOLLOWING PHOTOGRAPHERS:
P. Souza | B. Skerry | M. Dupain | R. Bennett | M. Lewis | I. Poole | R. Spowart | A. Knott | P. Lik | T. Hewitt


---

PETE SOUZA | signed print
We are delighted and excited to have a signed print of this iconic Pete Souza photograph for the fotoAID Auction.

Souza's work as White House photographer documented Barack Obama's Presidency and is remarkable window into the world of the America's first African-American President.
About the print: "Hair like mine"
Jacob Philadelphia feels the head of President Obama, May 2009, by Pete Souza
(Extract from an article in the New York Times, 23 May 2012) The boy in the picture is Jacob Philadelphia of Columbia, Md. (In 2009), his father, Carlton, a former Marine, was leaving the White House staff after a two-year stint on the National Security Council that began in the Bush administration. As departing staff members often do, Mr. Philadelphia asked for a family photograph with Mr. Obama.
When the pictures were taken and the family was about to leave, Mr. Philadelphia told Mr. Obama that his sons each had a question. In interviews, he and his wife, Roseane, said they did not know what the boys would ask. The White House photographer, Pete Souza, was surprised, too, as the photo's awkward composition attests: The parents' heads are cut off; Jacob's arm obscures his face; and his older brother, Isaac, is blurry.
Jacob spoke first.
"I want to know if my hair is just like yours," he told Mr. Obama, so quietly that the president asked him to speak again.
Jacob did, and Mr. Obama replied, "Why don't you touch it and see for yourself?" He lowered his head, level with Jacob, who hesitated.
"Touch it, dude!" Mr. Obama said.
As Jacob patted the presidential crown, Mr. Souza snapped.
"So, what do you think?" Mr. Obama asked.
"Yes, it does feel the same," Jacob said.

The print is personally titled and signed and has notes on the reverse.
More about the photographer:
Pete Souza is a best-selling author, speaker and freelance photographer based in Madison, Wisconsin. He is also Professor Emeritus of Visual Communication at Ohio University. Souza was the Chief Official White House Photographer for President Obama and the Director of the White House photo office.
His book, "Obama: An Intimate Portrait," was published by Little, Brown & Company in 2017, and debuted at #1 on the New York Times bestseller list. It is one of the best-selling photography books of all time.
In addition to the national political scene, Souza has covered stories around the world. After 9/11, he was among the first journalists to cover the fall of Kabul, Afghanistan, after crossing the Hindu Kush mountains by horseback in three feet of snow.
Souza has won numerous photojournalism awards including several times in the prestigious Pictures of the Year annual competition, the NPPA's Best of Photojournalism, and the White House News Photographers Association's yearly contest.
He has lectured many times on his photography including at the Smithsonian Museum of American History, Corcoran Gallery of Art, Harvard University, Boston University, Ohio University, the University of Kansas, Western Kentucky University, Kansas State University, the Newseum, Facebook, Atlanta Celebrates Photography, Atlanta Photojournalism Seminar, Truman Library Institute and Adobe Max. He has appeared on CBS Sunday Morning, CBS Evening News, NBC Nightly News, The Today Show, Good Morning America, CBS This Morning, ABC 20-20, Dateline NBC, Nightline, Charlie Rose, CNN Special Reports, Face The Nation, Fox News Sunday, and the NPR shows Fresh Air, Morning Edition, All Things Considered, Weekend Edition, 1A and Here and Now.
Souza has had solo exhibits of his photographs at the Leica Gallery in NYC; Stephen Kasher Gallery in NYC; The Kennedys Museum in Berlin, Germany; Etruscan Museum in Cortona, Italy; Kansas State University in Manhattan, Kansas; Fermilab in Illinois; U.S. Naval Academy in Annapolis, Maryland; Navy Museum in Washington, D.C.; University of North Carolina in Chapel Hill, N.C.; Boston University; Ohio University in Athens, Ohio; and the National Press Club in Washington, D.C. His photographs have also been part of group exhibits at the National Archives, Smithsonian Museum of American History, Corcoran Gallery of Art, the Newseum, and the 92nd Street Y in NYC. His traveling exhibit, "Two Presidents: Obama and Reagan," debuted in early February 2019.
Current Bid: $700 (CR)
---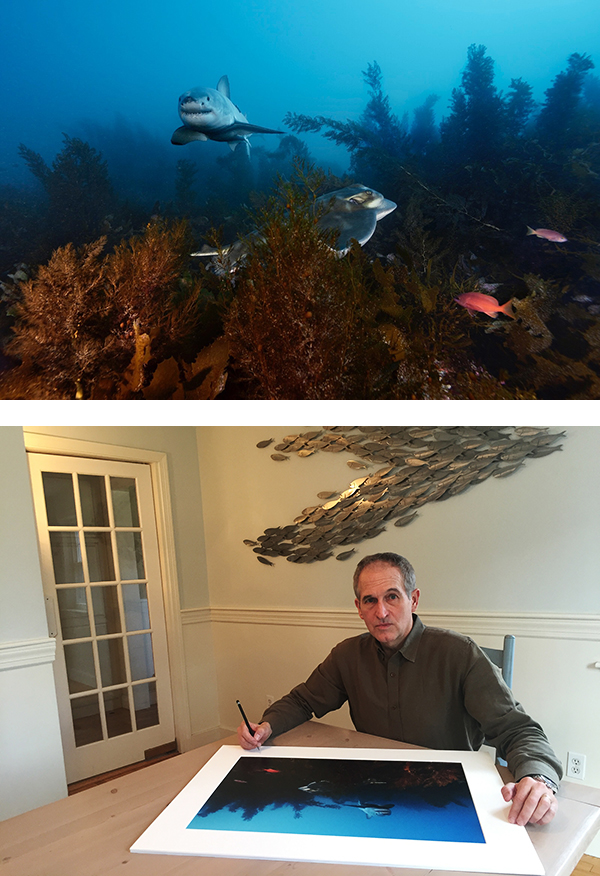 BRIAN SKERRY | signed print

When asked if he could support Australia's bushfire recovery with a print for the fotoAID Auction, National Geographic photographer Brian Skerry did not hesitate. He chose one of his favourite (and amongst his most iconic) images of a Great White Shark off South Australia as his contribution.
More about the print:
The print was made specially for fotoAID; is mounted and matted; is signed on the bottom right of the mat, and; has a special dedication to Australia on the reverse side.
More about the Brian Skerry:
As a photojournalist specialising in marine wildlife and underwater environments since 1998, Brian has covered a wide range of subjects and stories for the magazine. In 2014 he was one of five photographers named as a National Geographic Photography Fellow. In 2015 he was named a Nikon Ambassador and in June 2017 he was awarded the title of Rolex National Geographic Explorer of the Year. He is currently at work on his 28th story for the magazine.

Brian is an 11-time award winner in the prestigious Wildlife Photographer of the Year competition. He was recently honored with the NOGI Arts award for 2019. He is the only photographer to win the coveted Peter Benchley Award for Excellence in Media. In 2010 National Geographic named one of Brian's images among their 50 Greatest Photographs of All Time and he was awarded the 2016 National Geographic Photographer's Photographer Award, an honor bestowed by his colleagues.
Brian frequently lectures on photography, exploration and conservation issues, having presented at the United Nations General Assembly, The World Economic Forum, TED Talks, The National Press Club, The Royal Geographical Society in London and the Sydney Opera House.
Brian is the Explorer-In-Residence and a Trustee at the New England Aquarium, a founding member of the International League of Conservation Photographers, Director of The New England Ocean Odyssey for The Conservation Law Foundation and a Fellow National of The Explorers Club. He also serves as a Marine Fellow with Conservation International and serves on the World Wildlife Fund's National Council as well as the WWF's Marine Leadership Council.
Current Bid:
---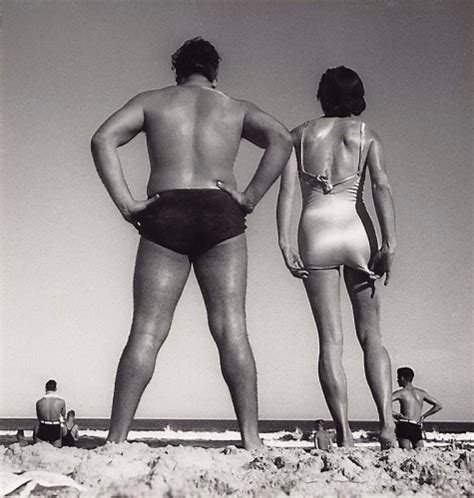 MAX DUPAIN AC OBE | print
Max Dupain (1911-1992) was Australia's most respected and influential black & white photographer of the 20th century. His images capture a long-gone era in which Australian society was vastly different from what it is now. With his documentary eye his images exude quality and demonstrate Dupain's mastership of light and form.
Dupain was considered the pioneer of modernism in Australian photography, an approach that departed from the sentimentality of soft focused, nostalgic imagery to the simplified world of light contrasts, sharp focus, varying angles and creative compositions.

About the print:
The print is a contemporary inkjet print from a scanned negative.
About the photograph: "Bondi 1939″
One of Max's iconic representations of Australian beach culture, he had his camera ready while lying behind the couple. While there are several images of this couple, it is this one of the woman tweaking her costume that captured a timeless gesture and became popular.
This print has been generously donated by Max Dupain Exhibition Photography (maxdupain.com.au)
Current Bid: $750 (CR)
---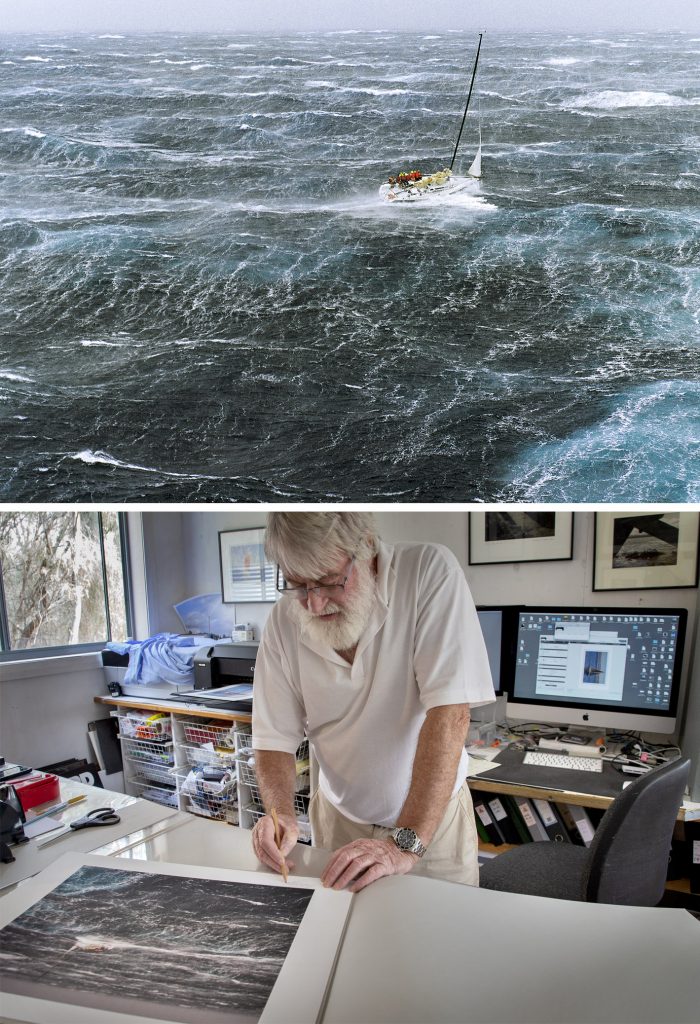 RICHARD BENNETT OAM | signed print

Many Australian's spend their Christmas–New Year break hearing the names of towns like Batemans Bay, Narooma, Tathra, Merimbula and Malacoota on the news.

It's the norm to hear radio and TV reports on the progress of the Sydney-Hobart fleet, as sailors battle south during the world's most famous ocean race. The 2019/20 Summer of Fires again brought those towns into focus, but for different reasons.
Back in 1998, a tragedy of another kind (also caused by extremes) brought those south-eastern towns into the news.
The circumstances around the photograph:
SECRET MENS BUSINESS was photographed by Richard from an Aero Commander twin engine aircraft, about 50 miles east of Mallacoota at the height of an unprecedented storm that struck the 1998 Sydney – Hobart Yacht Race fleet.

The ensuing search and rescue operation was the largest in Australia's peacetime history, involving 35 military and civilian aircraft and 27 Naval vessels. Six sailors perished, 55 were rescued.
Of the 115 yachts that started the race, five yachts sank, 7 were abandoned and over 70 retired, including Secret Mens Business.

The subsequent enquiry into the tragedy found that whilst the storm had been forecast, its severity had not been communicated effectively to crews– and its potential impacts on the fleet were not fully appreciated by organisers.
More about the photograph from Richard:
"Judging by the sea state, I reckoned it was blowing more than 70 knots. Wind gusts were recorder at 92 knots. The storm was later described as a weather bomb. Streamers whipped across the water, the tops of waves were toppled and blasted, the saltwater blown into the air so that it was often hard to tell where the water finished and the sky began."
"We got down as low as we could. I pulled off the fibreglass plug door and lay down on my sleeping bag, secured by a harness, and got down to the business of taking pictures. I was centred down that viewfinder and out along the 150mm lens. Nailing those pictures. The maelstrom going on all around was simply a part of my composition. There was an awful lot of wind coming through that door. It was freezing. But it was always windy and cold up there. We were flying at 110 knots, and I was poking my head out of a bouncing plane into this 200 kilometre an hour blast. It's very difficult to do. My fastest shutter speed was 1000th of a second – much slower than the modern digitals. Not every frame I got was sharp. "
"But I got a great shot of Secret Men's Business reefed right down with a huge sea and 90 knot gusts at the height of the storm."
Shot on a Pentax 67 w/150mm Takumar Lens on Fuji NPS colour negative film .

About the print:
The print is a contemporary inkjet print from a scanned negative, produced specially for fotoAID, and signed by Richard.
Current Bid: $500 (RS)
---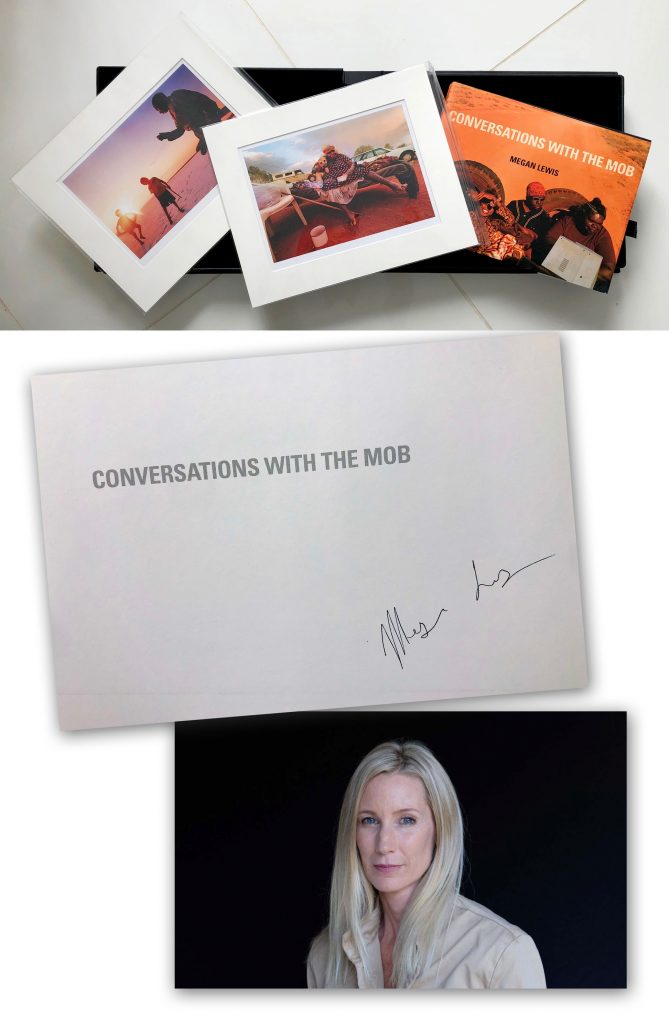 MEGAN LEWIS | signed book and prints
Conversations with the Mob:
In July 2002, Megan Lewis left her job as photographer with The Australian newspaper to live with the Martu people, one of the last indigenous groups in Australia's Great Sandy Desert to come into contact with Europeans. Her resulting book, Conversations with the Mob was the product of eight years continuous involvement with the Martu, including several years living with them.

About the work:
We are auctioning a signed copy of "Conversations with the Mob" (out of print) plus two matted prints, kindly donated by Megan.
'Megan Lewis's recent Conversations with the Mob featuring the Martu people of the Great Sandy Desert is simultaneously empathetic, beautiful and heartbreaking' – Tim Winton
'The result is a tour deforce of fine, spontaneous photography combined with remarkable first-person narratives from a wide variety of Martu people' – The Sydney Morning Herald
Conversations with the Mob is an intimate photographic portrayal of the Martu people.
When the Mob allowed a whitefella – photojournalist Megan Lewis – to come and live with them, the understanding was she was there to take photographs to share with outsiders. But as two and a half years passed and Megan absorbed herself in the Mob's way, it became apparent that the project was more than a book or an exhibition… it was a journey of marpan (healing) for whitefellas and Martu alike.
"Your photos are making Martu look at themselves and think, what are we doing… Now I see why you have to do this, because Martu have to look at themselves."
Conversations with the Mob captures the reality of a traditional people living neither in their old world or in a white world. Through photographs, oral stories and Megan's own experiences with the Mob, the reader enters the reality of desert life where health, grief, footy, humour, sorry business and spirits consume daily survival.
Her intimate photographic portrayal of the Martu people won her a 2005 Walkley Award, the most prestigious award in Australian journalism. Megan was also voted by her peers as winner of the Australian Nikon Photographers Choice Awards in 2006.
Megan has kindly donated to the fotoAID Auction a signed copy of her out-of-print book, together with two prints, in a boxed set.
More about the Megan:
Award-winning photographer Megan Lewis was born and raised in rural New Zealand. After commencing her career with provincial newspapers she moved to Sydney in 1993, at the age of 21. Within a week of arriving there she was employed as a junior staff photographer for Reuters International news agency.
During her time with Reuters, Megan's work regularly appeared in international publications, including the Washington Post, International Herald Tribune and as a front cover for Time Magazine. She also wrote feature articles to accompany her photo essays on a Zimbabwe wildlife conservancy and Sydney's Water Police.
In early 1998 Megan was lured by The Australian, News Ltd's national daily newspaper, to their Perth bureau. She covered national and international stories, including the international headline story of MV Tampa, the Norwegian freighter that rescued drowning refugees near Christmas Island. She covered events as diverse as the riots in Indonesia, the first tremors of East Timor's bid for independence and represented the Australian media travelling with the UK media during the Queen Elizabeth's 2000 tour of Australia.
In July 2002, Megan left The Australian newspaper to live full-time with the Martu people, which culminated in her book Conversations with the Mob.
Her work has been exhibited in Australia and internationally. And after being invited to speak at the 2008 Sydney Writers Festival, Megan has continued to be in demand for public speaking roles.
Megan is a Fujifilm X ambassador, works as a freelance photographer in Australia and internationally.
Current Bid:
---

IAN POOLE | signed print
The legacy of Ian Poole (1945-2018) radiates far and wide. His life of "doing photography" – in advertising, as a university lecturer, photo artist, judge, commentator, and critic– ensured his work and opinions on photography touched many lives.
As an Honorary Fellow and Master Photographer of the Australian Institute of Professional Photography (AIPP), and as an Honorary Member and Master Photographer of the New Zealand Institute of Professional Photography (NZIPP), Poole dedicated much of his life to furthering professional practice in the region.
Ian made connections with Japanese photographers through his co-ordination of AIPP events in the early 1980s. This led to an exhibition of 13 Japanese photographers organised by Ian and hosted by artist Rick Everingham in his Brisbane studio during Brisbane's transformative World Expo in 1988.
Poole followed up this exhibit with an exchange show, 'A shot from down under' at Design Expo in Nagoya, Diacolo Gallery in Osaka and amazingly in the Kodak Salon, the Ginza, Tokyo.
Ian coordinated a tour for the participating Queensland photographers who spent about 3 weeks in Japan travelling with the exhibition, attending the openings, staying with the Japanese photographer's families and experiencing Japanese life and landscape.
It was during this trip that Ian shot the negative you see as the print we have to auction. The image was exhibited in the show "Pictures from Japan" at Imagery Gallery, South Brisbane in 1990.
About the print:
This original, hand-enlarged gelatin-silver print was from Ian's collection and was generously donated to the fotoAID Auction by his daughter, Nicola.
Current Bid: $500 (MP)
---
RUBY SPOWART | signed print and book
About the print:
"Twin Gums" photographed in the Pilbara region of North Western Australia. The print we are auctioning is a fibre based, gelatine silver sepia toned vintage print from the early 1990s and was featured in the book (catalogue) "Patterns in Time". A copy of the book is gifted with the print.
About Ruby Spowart:
Now in her early 90s, Ruby has over the years participated in a range of photographic pursuits that have led to some quite substantial achievements. She is a triple Master of Photography, Fellow and Honorary Fellow of the Australian Institute of Professional Photography; in her academic studies she has achieved a Certificate in Art from the Queensland College of Art and also an Associate Diploma of Visual Art from QUT. Recognised for her contribution in visual art she was awarded a Don Fraser Fellowship of QUT and, earlier in her career in the camera club movement she was awarded both an SSAPS and an APR Medal by the Australian Photographic Society.
Ruby still photographs and has had contributions to the last three Loud&Luminous exhibitions.
With Son Doug she co-founded Imagery Gallery in Brisbane that showed exhibitions of photography for fifteen years from 1980-1995. Her photographs have won major art photography awards in the 1980s and 90s including the Muswellbrook Photographic Award and the McGregor Prize for Photography and is held in major regional art collections and the Queensland Art Gallery and the National Gallery of Australia.
Ruby has created an immense body of work in the following techniques:
Polaroid 10"x8" colour photograms (1980s)
Polaroid SX-70 multi-image (joiner-style works) (1980s)
Massive pseudo-panorama landscapes (1980s & 90s)
Camera toss mosaics (1980s & 90s)
Large-scale photo mosaics (1980s & 90s)
Artists' books and photobooks (2000-2012)
Her most recognisable works, particularly from the AIPP APP Awards successes, comes from her work with Kodak High Speed Infrared film and a Leica M2. The images are usually of outback Australian landscapes and are heavily sepia toned.
Current Bid: $300 (CR)
---

ADAM KNOTT | signed print
Adam Knott is a world-renowned Australian photographer who, throughout his career, has been based in New York, Los Angeles, Hong Kong, and Sydney.

About the print:
Adam has kindly donated a rare gelatin silver print (printed in 1991) from his project series Bondi – Then and Now
More about the Adam:
Knott's award-winning portrait/fine art work has appeared in Esquire, Stern, GQ, Vibe, Time, Entertainment Weekly, The Sunday Times Magazine, People, Harpers Bazaar, Marie Claire and The Independent.
His high-end celebrity portraits include Audrey Hepburn, Cate Blanchett, Shirley MacLaine, Whoopi Goldberg, Jeff Bridges, Nelson Mandela, Alice Cooper, Chris Isaak, Michael Caine and Joel Edgerton to name a few.
Knott's work is also in the permanent collections of major galleries and museums such as The National Gallery, The National Portrait Gallery, The National Library, Art Gallery of New South Wales, Monash Gallery of Art, and the Museum of Political Studies.
Knott also combines his portrait and fine art skills for use in photojournalism assignments where his high energy and compassion for the subject result in an original perspective. This work has taken him to the in Tiananmen Square student demonstrations, China; the struggle of HIV Positive orphans in Romania; Nazi Concentration camps of Poland; Waitresses of America; Depression in the western world; abandoned babies of America, and the tragedies of Vietnamese refugee camps in Hong Kong.
Current Bid:
---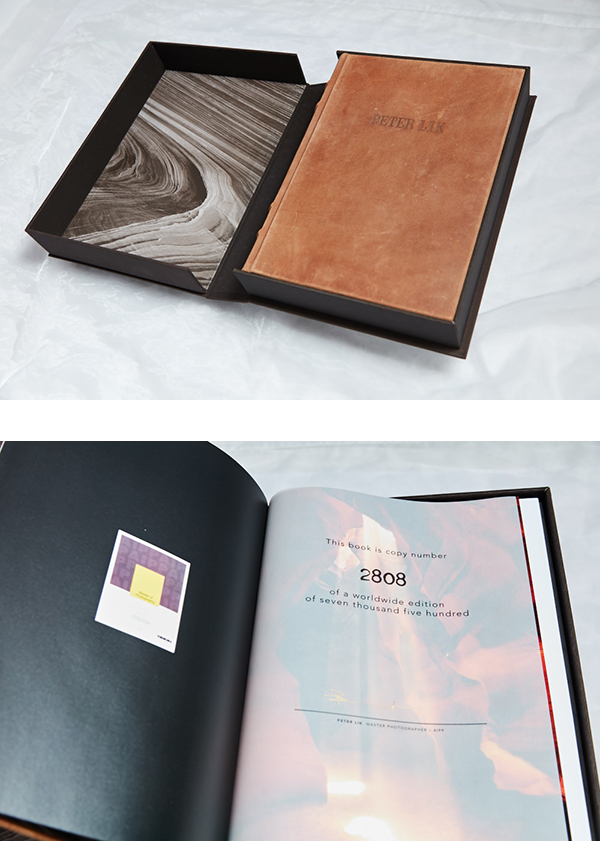 PETER LIK | signed book
"
This substantial work by Peter Lik has been generously donated by Brisbane photographer William Long.
The 580 page book ( 505mm x 370mm x 90mm) is a compilation of Peter's images from the first 25 years of his career. Weighing in at nearly 20kg, the leather-bound volume, with hinged case, is a testament to this photographer's prolific work.
Each image includes the precise location coordinates of where it was photographed.
"25th Anniversary Big Book"
Edition No. 2808 of 7500.
From Peter Lik's Website:
Peter has been shooting expansive scenes of Mother Nature his whole life. Born in Melbourne, Australia to hardworking Czech immigrants, he never took the gift of life's beauty for granted. Peter's catalogue of work can be traced back to the essential moment when, at 8 years of age, the gift of a Brownie Kodak camera from his parents set him on a course for destiny. Since his first, fateful snapshot of a spider web in the family garden, Peter has followed his calling to capture and share the most beautiful places on earth.

It was after a trip to the United States in 1984, that Peter discovered the panoramic camera format, a defining moment in his career. Challenged with the dare to "go big or go home," Peter did both. For the next two decades, Peter would travel back and forth between the United States and his native Australia, honing his craft and establishing his prominent position in the world of fine art photography.

In the late 90s, Peter took a giant leap forward, taking on a massive project now known as Spirit of America. After fifty thousand miles and 1,000 rolls of film, Peter had revealed landscapes from all 50 United States, completing the "biggest challenge of my life." From there, it was only onward and upward for this remarkable success story.

More landmarks for Lik came in 2011 and 2012, when his iconic images Ghost and the highly awarded Inner Peace, would both be featured on display at the Smithsonian National Museum of Natural History in Washington D.C. It was on the heels of these major accomplishments that Peter jumped straight into the heart of mainstream culture by starring in the NBC-produced TV series, From the Edge with Peter Lik. He had officially become a household name.

In 2014, Peter shattered all world records by selling the most expensive photograph in history. Phantom, his black & white masterwork depicting a ghostlike image at Antelope Canyon, was acquired for an astounding $6.5 million. To accompany this sale, Peter's images Illusion and Eternal Moods were also acquired for $2.4 million and $1.1 million, respectively. Along with his sale of One for $1 million in 2010, Peter now holds four spots out of the top twenty most expensive photographs ever sold. These historic acquisitions not only gained Peter international acclaim, they secured his position as a leader in the field of fine art photography.
Amongst the hundreds of prestigious accolades and merits garnered over the years, Peter has been awarded the title of Master Photographer from the Australian Institute of Professional Photography, Professional Photographers of America, Federation of European Photographers and Master Photographers International along with Fellowships from the British Institute of Professional Photographers, The American Society of Photographers and The Royal Photographic Society.
He has sold upwards of $700 million of artwork to his many valued collectors, including royalty, presidents and celebrities. Peter's images can be viewed in luxurious hotels, prominent estates, leading corporate offices and in all of his galleries around the US.
Current Bid: $950 (JM)
---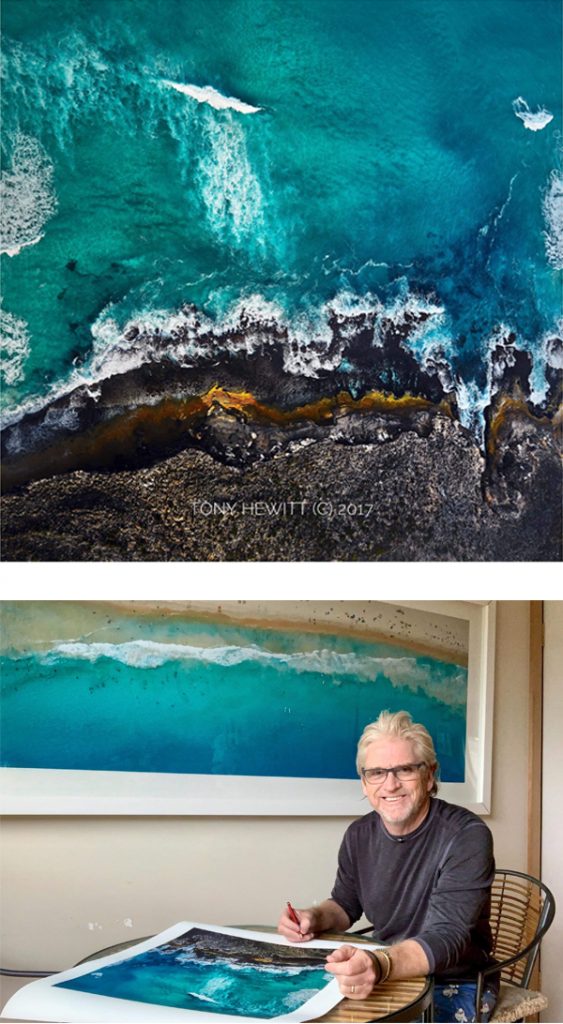 TONY HEWITT | signed print
Tony's print of Kangaroo Island, South Australia is an outtake from the "Girt by Sea" project, an ambitious, 34,000km photographic circumnavigation of the entire Australian coast in a Cessna 210 light plane, which he undertook with fellow West-Australian photographer Denis Glennon and two pilots, in April-May 2017.

About the print:
The print is a contemporary inkjet print, produced specially for fotoAID, and signed by Tony.

More about the Tony:
Tony Hewitt's photographic journey has seen him explore the genres of Fine Art Photography, Landscape, Portrait, and Commercial. He has exhibited both within Australia and Overseas, and has been invited to judge both nationally and internationally since 1995.
With a passion for people, places and pictures, and an instinctive sense of the moment, Tony brings a unique combination of creative skills, award winning photographic vision and simple creativity. 'Something from nothing' is a common theme behind images such as those in his Concrete Series, and his Portrait images often look to present the person, within the context of their environment, in simple but revealing ways. In some more recent explorations Tony has enjoyed capturing 'Abstract Landscapes', & 'Altered Landscapes', which seek to illustrate the hand of man and its' impact on his surroundings. In 2010 he exhibited jointly in the exhibition "52 Weeks On – the Pilbara Project", and featured in the publication of the same name. He was an integral part of the South West Light Project and Shark Bay, these projects were outcomes of the travels of the ND5 collaboration, along with further projects including, including Earth Matters at the Monash Gallery of Art, and the North + East exhibition at Maud Gallery in Brisbane, which featured images from the Kimberley region & Lord Howe Island projects.. He is currently working with the same colleagues on several new projects for exhibition in 2016/17,
In addition after a series of consecutive successful solo exhibitions titled 'Coast', 'Coast 2' & Lux et Aqua at Lynton & Kay galleries in Western Australia, he has been invited to exhibit once again with his latest solo work available to view in February 2019. His work is currently featured alongside fellow photographer Denis Glennon in the incredible 100 piece 'Girt by Sea' exhibition available to view in Perth Western Australia at Central Park in the Perth CBD.
Current Bid: $300 (RS)
---